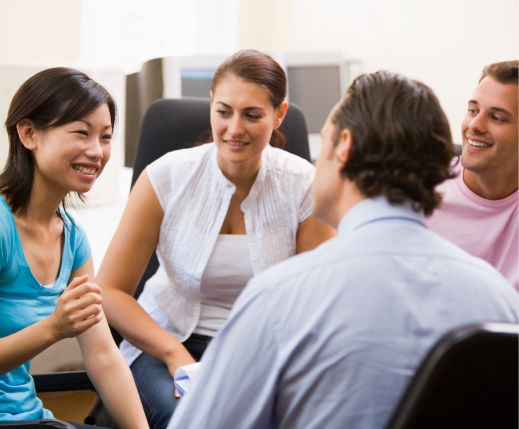 At Breakthrough, we support the growth of our staff. We promote almost all of our management staff from within, creating a rewarding career path.
While our work is rewarding, our working environment is often challenging. Each program participant has unique needs and concerns, including physical, intellectual, psychological, and emotional issues. It is our job to create a program and environment for each resident that will help them learn life skills and healthy behaviors.
Structured Training
We base treatment off of Cognitive Behavior Therapy (CBT).
We train all staff members in Right Response (verbal and physical de-escalation interventions).
We train all staff members in "Foundations" training: orientation of policies and procedures, house structure, medication management, client treatment and behavior management plans, and DDA client Positive Behavior Support Plans.
We meet all WAC requirements.
We meet all BRS contract requirements.
We provide continual opportunities throughout the year to attend training provided by Washington State DCFS and DDA, as well as third-party training.
We train all staff members to collect and analyze quantitative and qualitative data through functional behavior assessments.
We train all staff members on Independent Living Skills to use with clients.
Unstructured Training
We provide behavior management training.
We facilitate community inclusion with clients.
We train all staff members to promote positive peer synergy by using accountability and positive reinforcement in the peer environment. This enables each client to engage holistically in the treatment environment.
We provide and support positive motivation and incentive programs.
We provide, value, and enforce daily structure.
We create treatment plans and behavior management plans.
We provide shadowing management.
Staff Requirements
All Breakthrough staff members must be able to acquire or complete the following requirements and training. A portion of these trainings are provided by Breakthrough upon hiring.
Have a high school diploma or GED
Be at least 21 years of age (or 18 years of age and enrolled in an accredited college)
Have a valid driver's license
Have auto insurance
Have reliable transportation
Pass a background check
Have a current TB test (prior to the first shift)
Have a current Washington State Food Handler's card
Have training for First Aid, CPR, blood-borne pathogens (Breakthrough will provide)
Have training for Right Response de-escalation (Breakthrough will provide)
Be able to lift 50 pounds or more
Complete Breakthrough's policies and procedures training
Read and understand our clients' histories and needs
Know and understand therapeutic boundaries
Understand clinical purposes
Function as a mentor to the clients
Represent Breakthrough professionally throughout the community
Breakthrough policies and practices are non-discriminatory against staff or prospective staff based on age, sex, marital status, race creed, color, national origin, or the presence of sensory mental or physical handicaps, including communicable diseases and HIV/AIDS, provided that such handicapping conditions do not prevent the specific performance of the job (WAC 275-26-060).
Please contact mholloman@breakthroughinc.org with additional questions.